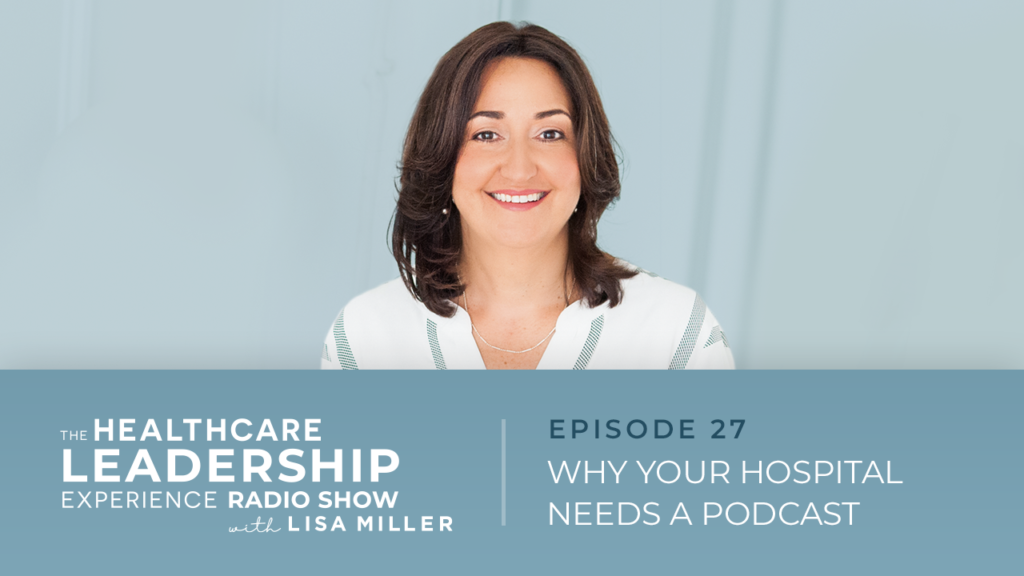 In these audiograms, taken from Episode 27 of The Healthcare Leadership Experience, Why Your Hospital Needs a Podcast, Lisa is joined by her show producer, Lisa Larter, to discuss why you need a hospital podcast.
Use a Hospital Podcast To Become Market Leader
Healthcare is in a new era of marketing, and podcasts have become a mainstream communication platform. A podcast is a huge opportunity to connect with and 'edutain' (educate, engage, entertain) your audience. Most hospitals don't know how or where to get started, but those that include podcasting in their marketing strategy will be the innovators. The time to launch a podcast is now.
Successful Podcasting Needs a Strategy
Podcasts increase your hospital's link building and its appearance in Google searches, but to succeed, your podcast must be aligned with your business objectives. What kind of content do you want to promote? A combined focus on content and strategy will enhance your online ranking and extend your patient reach.
The Patient Experience Podcast
Hospital Podcasts are a powerful way to share the patient experience, but they need a memorable name. A regular podcast provides a longform platform to promote patient stories in a more detailed conversation. As well as offering a cost effective alternative to TV adverts, they promote the patient journey and enhance your hospital's online reputation. Podcasts can also be a vehicle to help healthcare to become more human.
Podcasts Offer SEO Benefits Without a Paid Organic Search
Financial pressures are forcing hospitals to find new and innovative ways to become more competitive. A well planned, strategic podcast is a phenomenal way to share your expertise, educate and engage with your audience. As health systems explore their marketing options, the SEO benefits of an established hospital podcast can help to reduce the cost of paid organic searches. In 2021, 41% of Americans listened to podcasts every month. The key to success is to ensure compelling, entertaining content that reflects current and future trends.