Reinforcing Critical Cost Management of Medicare Costs
This article was written by Bryan Covert.
Recently published data from the American Hospital Association (AHA) reinforces how critical it is for all hospitals to be managing costs to Medicare.
Its annual hospital survey, released in January 2019, clearly demonstrates how American healthcare systems continue to be underpaid by the federal health insurance program.
Analyzed from data gathered in 2017, the findings include the following:
66% of hospitals received Medicare payments at less than cost, while 62% of hospitals received Medicaid payments at less than cost.
Hospitals were paid only 87 cents for every dollar spent on caring for Medicare patients.
Hospitals were paid only 87 cents for every dollar spent on caring for Medicare patients in 2017.
Click To Tweet
The annual shortfall for Medicare was $53.9 billion. For Medicaid, the shortfall was £22.9 billion.
In addition, hospitals provided $38.4 billion in uncompensated care in 2017. This figure does not include expenditure on other services and programs that your healthcare system may provide to meet the needs of your patient community, for example, population health initiatives.
While hospital participation in both Medicare and Medicaid is voluntary, they must do so in order to maintain their not-for-profit, tax-exempt status. This mandatory requirement makes it impossible for hospitals to choose not to participate in these programs. Furthermore, Medicare and Medicaid programs now account for more than 60% of all care provided by hospitals.
These findings should influence the way in which all healthcare systems look at their costs.
The growing problem of Medicare underpayments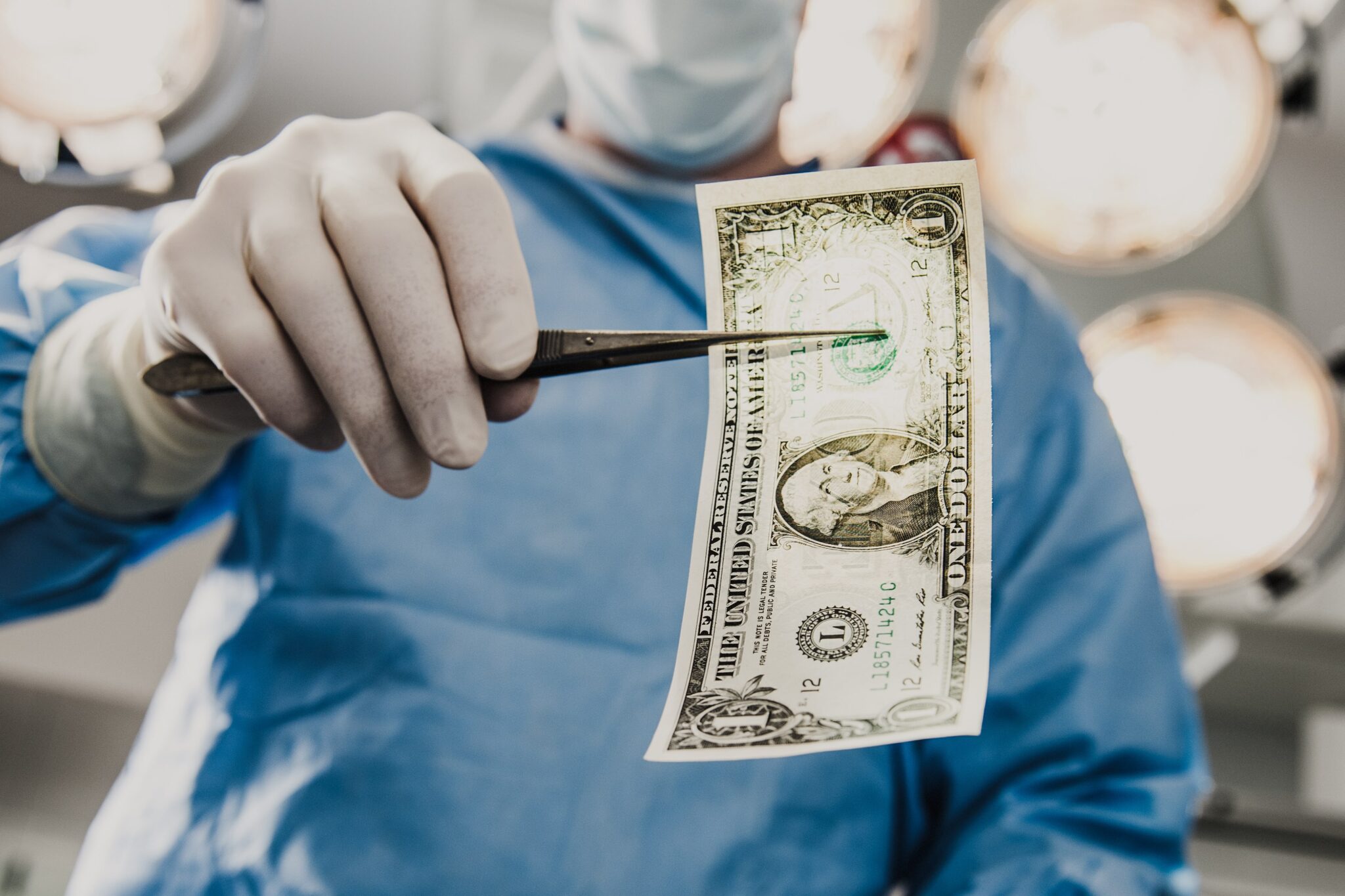 The issue of Medicare underpayment is an ongoing problem which is seemingly expanding. In part, this can be attributed to shifting dynamics in payer mix.
In 2014, the AHA reported that the commercial payers were the primary source of hospital reimbursement at 37.8%. By 2024, it is predicted that Medicare will take over the top spot comprising of at least 40% of all reimbursement.
Medicare payments are typically flat, and do not shift with your costs.
For example, on a Total Knee Arthroplasty, your healthcare system may reimburse a percentage of the amount you bill your patient, or cost of supplies, with an added-on percentage. The total amount depends on your specific contract with a commercial payer.
In contrast, Medicare payments are fixed. Any additional costs cut directly into your hospital's revenue and negatively impact your overall margin.
For these reasons, hospitals must be extremely conscious of their profitability on procedures in the OR as they relate to Medicare reimbursement.
Recommendations from VIE Healthcare® Consulting
At VIE Healthcare®, we propose the following to help manage your costs:
We strongly recommend mapping OR implant, procedure accessory costs (inclusive of biologics/cement), and supply costs against the Medicare reimbursement rate for that procedure.
Understanding your contribution margin, direct case costs vs revenue, per case type in the OR against Medicare reimbursement is crucial. OR procedures are typically a hospital's primary source of revenue.
These cases must therefore generate sufficient margin to cover hospital overhead as well as subsidize less profitable hospital activities.
VIE Healthcare® recommends that any major or surgical procedure have a contribution margin of no less than 45%.
VIE Healthcare® recommends that any major or surgical procedure have a contribution margin of no less than 45%. Click To Tweet
Once you have an understanding of your contribution margin per case type in the OR, you can begin to understand the drivers and can subsequently leverage this information to identify where and how you can improve your cost management processes.
You can also explore low-margin cases in greater detail such as high-cost implants from specific providers, high-cost case accessories, off-contract bone cement, or improperly submitted claims. Each of these areas carries the potential to incur high costs if they fall outside Medicare's reimbursement policies.
Many times, high-cost implants, accessories or off-contract items go unnoticed if:
A vendor contract contains expensive items which have a less costly alternative.
If a doctor prefers an item for a medical procedure without knowledge of its Medicare reimbursement rate.
Physician Preference Items (PPIs) constitute anywhere between 40% and 60% of a hospital's total supply costs.
Improperly submitted claims to Medicare are another area to check for financial leaks. Claims must be submitted properly to Medicare to avoid delayed reimbursement – or even denial – due to Medicare's strict claim submission policies.
So much is at stake when a hospital relies heavily on Medicare reimbursement. Margin improvement is possible, however, with the help of cost reduction experts who have knowledge of Medicare policies and procedures for reimbursement in both clinical and practical areas.
Our team of experts at VIE Healthcare® implements sustainable processes in your hospital's supply chain to successfully manage your costs. We identify the weaknesses in your process to drive sustainable margin improvements.
For a complimentary consultation, call our office today at 1-888-484-3332, Ext 500 or email us at info@viehealthcare.com.