Optimizing Clinical Laboratory Expenses
This article was written by Pandush Mitre.
Hospitals rely heavily on clinical laboratory services to deliver patient care but in the process overlook their inherent deficiencies that can result in reduced margins. That can be reversed by taking steps to optimize clinical laboratory cost savings and transforming patient care.
With the current shift toward value-based healthcare, hospitals must learn how to identify the weaknesses of their existing clinical laboratory providers.
The following steps will help your organization to achieve this:
Step 1 – Operational Efficiency
If hospitals are to continue offering laboratory testing, they can gain more control over their operations by committing resources to bring their clinical laboratories in-house.
The benefits of an in-house laboratory include:
Increased accuracy of testing by verifying that your supplier of clinical laboratory services employs people with the expertise and experience to not only meet but exceed the custom needs of your hospital.
Your hospital can quickly identify the largest pain points and take steps to implement a solution. For example, the use of flowcharts to address operational pain points can have a major impact as long as the entire business process, including billing and the administrative work, is included.
As reimbursements continue to fall, the ability to measure the performance of your laboratory can help your hospital to reduce costs and improve the quality of patient care while making improvements.
Step 2 – Monitoring Costs
With the pressure on operating margins, it is essential for hospitals to identify potential areas for cost savings. We recommend the following as a minimum:
Your contracts and invoices should be monitored on a monthly and annual basis to ensure effective cost management at all times.
The right technology must be in place to track the contract compliance and accuracy of the services that are invoiced. All too frequently, clinical laboratory agreements can have different pricing models and terms in place, making it almost impossible to keep track of the costs.
Clinical laboratory agreements often have different pricing models in place, making it impossible for hospitals to track costs. Click To Tweet
VIE Healthcare® Consulting uses Invoice ROI™ to capture your line item invoice details on a monthly basis and ensure that clinical laboratories are in compliance with their contract.
In our experience, when a hospital uses an in-house lab that outsources a portion of its tests, the chance of invoice errors increases. Hospitals will need to verify all of the pass-through costs to ensure compliance with their contract.
These costs can be validated by asking your clinical laboratory to obtain a utilization report from the reference labs they are using.
We also recommend that you obtain information on the billing and data organization of any potential provider. Laboratory providers who rely on manual processes rather than an automated process can have a detrimental effect on your hospital.
Step 3 – Negotiating Clinical Laboratory Agreements
Your hospital's location can provide a competitive advantage when negotiating clinical laboratory agreements. Hospitals with more than one clinical laboratory provider in their area can improve their chances of negotiating a preferred pricing model.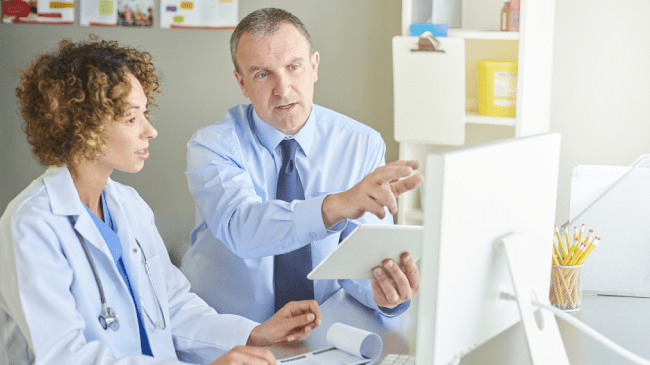 The following tips may help:
For instance, instead of a provider charging a contract price per test, you can negotiate the costs at a percentage of the Medicare allowable rate. Medicare provides a clinical laboratory fee schedule which can be used as a price index to determine if a hospital's costs are market competitive.
Before selecting a provider, we recommend that you consider whether or not the provider is using a reference lab. If they are, it is important that they agree to provide full transparency into the lab tests that are being outsourced.
Your hospital can also request information on invoices or supporting documentation to enable you to map out all of your costs accurately.
These three steps can help your hospital to begin to optimize cost savings and reduce patient care gaps.
Most healthcare leaders may not have the time or expertise to identify and breakdown the complexity of a clinical laboratory agreement. To improve margins and continue to offer high-quality patient care, it is essential to educate themselves on best practice and seek the help of an experienced partner. Our team of experts at VIE Healthcare® implements proven and sustainable processes to optimize clinical laboratory cost savings.
For a complimentary consultation, call our office today at 1-888-484-3332, Ext 500 or email us at info@viehealthcare.com.