Physicians Can Provide Quality Care at Lower Costs
This research report was compiled by Lisa Miller.
EXECUTIVE SUMMARY
"Our goal is to empower hospitals to create the optimum patient experience, develop strong community partnerships, and build a unique bond between provider and patient."
Current US healthcare spending statistics are alarming. The Center for Medicare and Medicaid lists US healthcare spending at $3.5 trillion, or $10,739 per person in 2017. That represents an increase of 3.9% from the previous year and 17.9% of GDP.
Furthermore, the Office of the Actuary at the Centers for Medicare and Medicaid projects healthcare spending to grow an average of 5.7% per year from 2020 to 2027.
This trajectory is unsustainable.
About one third of healthcare spending is related to hospital care. Hospital costs are rising, as reimbursement rates fall.
In the March 2019 report to Congress, The Medicare Payment Advisory Commission (MedPAC) recommended that CMS continue linking payment with quality performance and patient outcomes. Those quality measures are to include: mortality, readmissions, Medicare spending per beneficiary (MSPB), patient experience, and hospital-acquired conditions.
Hospitals must continue to provide quality care at lower costs.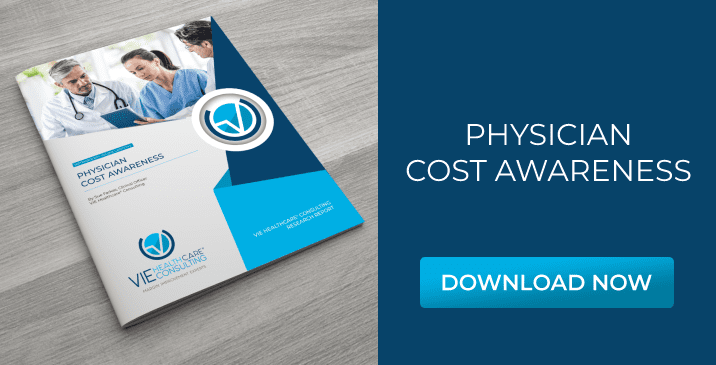 Drawing on our frontline expertise at VIE Healthcare® Consulting, this report explores the vital education, collaboration and alignment between finance and physicians.
Furthermore, we examine the critical need to provide cost data to surgeons in order to involve them in cost initiatives. Our strategy also includes the vital education and alignment needed between finance and clinicians.
Just presenting the cost data to the physicians in the "intervention group" decreased costs by 6.54% and what is even more interesting is that the control group who didn't have cost data – increased their costs by 7.42%.
If providers understand the true costs of procedures, they can reduce the cost of care while improving the quality of care.
Schedule a call with Lisa Miller
to learn how to bring a physician cost awareness program to your hospital.