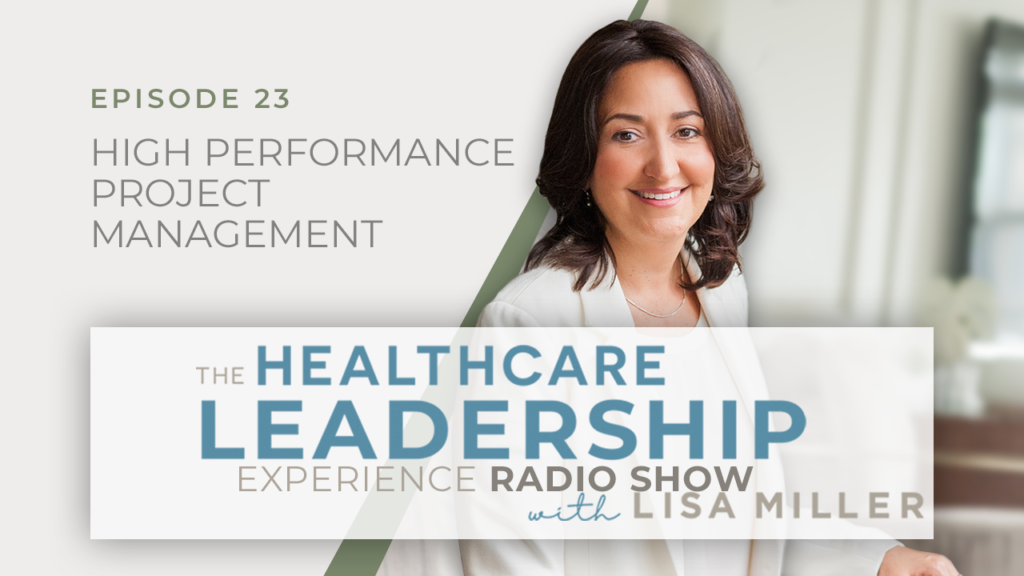 High Performance Project Management
In these audiograms, taken from Episode 23 of The Healthcare Leadership Experience, Lisa is joined by her producer, Lisa Larter, and Pandush Mitre from the VIE Healthcare® team. Together they discuss the challenges hospitals face in creating a high performing project management system.
Project management is central to every hospital strategy
Project management affects all areas of a health system. Organizations in every sector have one thing in common, excellent project management. In healthcare, a high performing project management system is essential for hospitals to deliver quality patient care. But most healthcare leaders struggle to resource the skills needed to manage high volumes of tasks.
Be Clear on Your Goals
To have a high performing project management system and for it to be successful, you need to clarify your goals. That means understanding exactly what you are trying to accomplish and how you will achieve it within your existing leadership structure. Setting clear goals with the ability to track priorities in real-time leads to high performance. Health systems must leverage project management skills for enhanced cost management.
High Performing Project Management is Broken Down Into Bite Size Pieces
Facing a list of 10 tasks you need to complete is overwhelming. Our recommendation is to break it down into bite size chunks. Focus on the three tasks you can complete right now. Apply those same principles every day to help you make progress with your projects and clarify the most important steps.
Project management isn't a one time event
If it's managed correctly, a high performing project management is the vehicle for success. The biggest reason why initiatives fail, take too long to complete, or run over budget is all down to project management. High-performance healthcare project management is vital to deliver exceptional patient care and drive margin improvement in hospitals.
Read more about VIE Healthcare's project management initiative, Project CROS, (Costs, Reimbursements, Outcomes and Social Determinants of Health) designed to improve cost management in the Operating Room.