The use of big data in healthcare drives efficiencies and optimizes costs. VIE partners with hospitals to:
Gather, interpret and analyze data from across your hospital.
Utilize business intelligence to improve processes and identify cost savings in real-time.
Leverage the benefits of big data from the OR to the waiting area.
Need immediate assistance?
Contact our team of Big Data Healthcare Data Analytics experts today. Call 1-888-484-3332 to get started.
What Is Big Data In Healthcare?
High-performance healthcare organizations apply best practices to drive growth and scalability, with many turning to data science.
Big data in healthcare describes the giant data sets that provide useful information when analyzed. These data sets are too complex or massive to be managed and interpreted by traditional storage, software, and analysis.(1)
Big data sources include EHRs, medical imaging, patient records, ePub documents, and devices connected to the Internet of Things (IoT).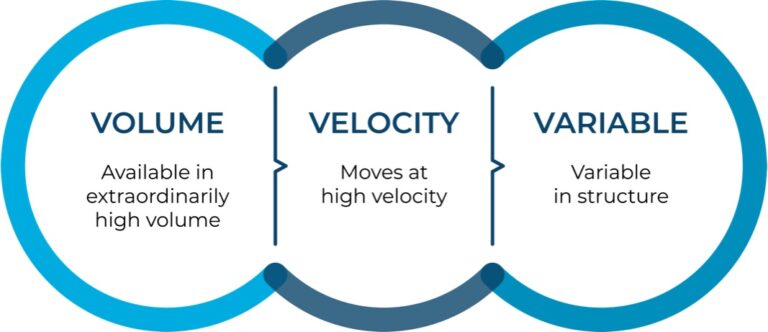 The use of big data has revolutionized healthcare. The most successful hospitals gather, analyze, and act on their data to guarantee high-quality patient care and profitability. Data analysts use large data sets to identify patterns, review functions, and address outliers.
The challenge for most hospitals lies in facilitating data collection and applying big data analytics effectively to reduce expenditure dramatically.
Use of Big Data Analytics In Healthcare
Big data analytics tools and technologies, such as machine learning and AI, leverage algorithms to parse large sets of unstructured data from multiple sources.
Big data analytics in healthcare makes it easier to:
Improve your patient experience
Develop prediction model forecasts
Structure clinical decision support
Leverage clinical data to find financial inconsistencies and cost reduction opportunities
Facilitate accurate purchased services benchmarking to save money
Make smarter payer decisions
Tap into the cost savings available in your big data with VIE's analytics experts
Big Data Examples In Healthcare
In healthcare, big data streams generate vital insights to improve processes and cost management. Below are 12 examples of big data analytics in healthcare.
Electronic Health Records (EHRs): EHRs comprise diagnostic and administrative patient data updated in real-time. For instance, hospital discharge data provides information on demographics, procedures, length of stay, and charges. EHRs also improve the quality of care.
Patient monitoring through the Internet of Things (IoT) devices: Patient wearables containing sensors that track vital signs and other information. Remote patient health monitoring (RPHM) systems monitor, record, and track changes in the patient's condition.
Staffing levels and coordination of care: Data analytics on hospital staffing levels are used to forecast patient volumes. By optimizing medical staff, hospitals realize cost savings while delivering quality care. Analytics also provides information for medical staff during shift changes, resulting in improved coordination of care.
OR utilization: Operating rooms account for over 60% of admissions and up to 65% of the total hospital's revenue. The use of big data analytics means block scheduling can be optimized to eliminate waste.
Identification of claims fraud: By analyzing claims data with machine learning algorithms, hospitals identify any patterns or abnormalities in claims processing. Analytics streamlines the process to expedite reimbursements and track incorrect payments.
Enhanced supply chain management: Analytical tools monitor supply chain metrics and maintain efficiency. A fragmented supply chain has a negative impact on everything from patient care to long-term financial management.
Reduced medical errors: Medical errors resulting from surgical, diagnostic, medication, and other failures cost hospitals billions of dollars in lost revenue. Many errors occur from staff negligence or insufficient information. Big data usage in healthcare leads to lower error rates.
Reduced data breaches: Hospitals use big data analytics to identify pattern changes in network traffic and other suspicious online behaviors.
Telemedicine: Telemedicine generates massive amounts of healthcare data. Technological advances are paving the way for telesurgery procedures that require high-speed, real-time big data analytics and artificial intelligence.
Ongoing staff training and development: Hospital staff require ongoing skills development. The use of big data analytics effectively tracks training needs.
Scientific research: This data may include research related to drug efficacy, new treatments, and the design of innovative medical devices.
Cost data: To include all financial data and a comprehensive record of costs across every hospital function.
The Challenges and Benefits of Big Data
Big data in healthcare is still evolving. These common obstacles can get in the way of cost saving initiatives:
Obtaining, analyzing, and interpreting data
Competing priorities
Stakeholder alignment
Concerns over healthcare cybersecurity and information privacy
Governance: who owns and is responsible for overseeing the planning, implementation and management of big data
Inadequate systems and databases and professionals to handle them
VIE has the expertise, tools, and resources to overcome these obstacles and save your hospital money.
Big data usage in healthcare helps healthcare leaders to:
Identify real-time process improvements
Invest more in innovative research
Leverage the use of big data from the OR to the waiting area
Utilize business intelligence to identify cost savings(3)
Predict potential future scenarios and make more informed decisions
The volume of data gathered can dramatically impact cost management strategies, find savings in the hospital purchasing process and help to achieve key performance improvement benchmarks.
VIE Helps Transform Your Profitability & Patient Care with Big Data Analytics
Working in partnership with your team, our big data analytics experts at VIE:
Gather large, disparate sets of complex data from multiple areas into one central source
Analyze and deliver business intelligence, enabling hospitals to make better and more informed decisions related to cost strategies and patient care
Achieve the rapid implementation of key data insights, addressing your clinical setting's outcome measures and knowledge gaps
Maximize cost savings and provide solutions for strategic purchasing in healthcare
Unlock the power of big data analytics in your healthcare organization –
call VIE today
.
Key Takeaways: Healthcare Big Data Analytics
Giant data sets are too complex to be analyzed by traditional software
Obtaining, interpreting, and analyzing data is a challenge for hospitals facing multiple competing priorities
Big data analytics in healthcare makes it easier to develop prediction model forecasts and structure support around clinical decisions
Hospitals act on big data insights to guarantee margin improvements and enhance patient care
Transform processes, deliver exceptional patient care, and save $$ with the use of big data analytics in healthcare.
Get started with our Big Data Analytics Experts today. Call VIE at 1-888-484-3332
Frequently Asked Questions About Big Data Analytics in Healthcare
Big data refers to giant data sets drawn from disparate, multiple sources that are stored and analyzed on a vast scale. Due to its volume, it cannot be managed or analyzed with traditional information storage systems or software. Sources of big data in healthcare include EHRs, patient medical records, medical imaging, and devices connected to the Internet of Things (IoT). Traditional databases are more costly to manage than big data.
Information gathered from big data analytics empowers health systems to deliver more accurate treatment to patients, identify those at risk of illness and prevent cases before they occur. Big data reduces the risk of medical errors and data breaches that may cost hospitals billions of dollars. Big data analytics also helps to inform business intelligence to make better decisions around patient care and cost management.
Data-driven solutions enable healthcare leaders to make better decisions relating to patient care, leading to improved public and population health. In addition, big data provides business intelligence that can make it quicker and easier to get actionable insights out of the huge amounts of data available to health systems. That intelligence leads to more informed decisions and helps hospitals reduce expenses in their most prominent areas of spend.
To get in contact now about big data analytics in healthcare, please call
1 888 484 3332
Or complete the form below and we will suggest times to connect this week.