Expense Reduction Training Proven to Save You Millions of Dollars Annually
Immediately Improves Your Bottom Line with Hospital-Wide Initiatives for Cost-Savings… Empowers Staff with the Best Practice Cost-Cutting Strategies… and Discovers New Opportunities in Expense Reduction
Expense reduction is one of the most important aspects of hospital management today. While most hospital executives have a strategy in place for cutting costs, it can be difficult to implement hospital-wide initiatives for cost savings. That's because most hospital staff and administrators don't have the proper expense reduction training.
VIE Healthcare is committed to changing that.
For nearly two decades, our expense reduction specialists have trained thousands of hospital workers on powerful cost-cutting strategies.
VIE's Certified Hospital Expense Reduction Specialists (C-HERS) training is designed to help hospital administrators master expense reduction trends. This four-week instructor-led program gives hospital employees the same expense reduction solutions and insights that healthcare consultants use every day. Together, these cost-cutting strategies save health systems millions of dollars annually.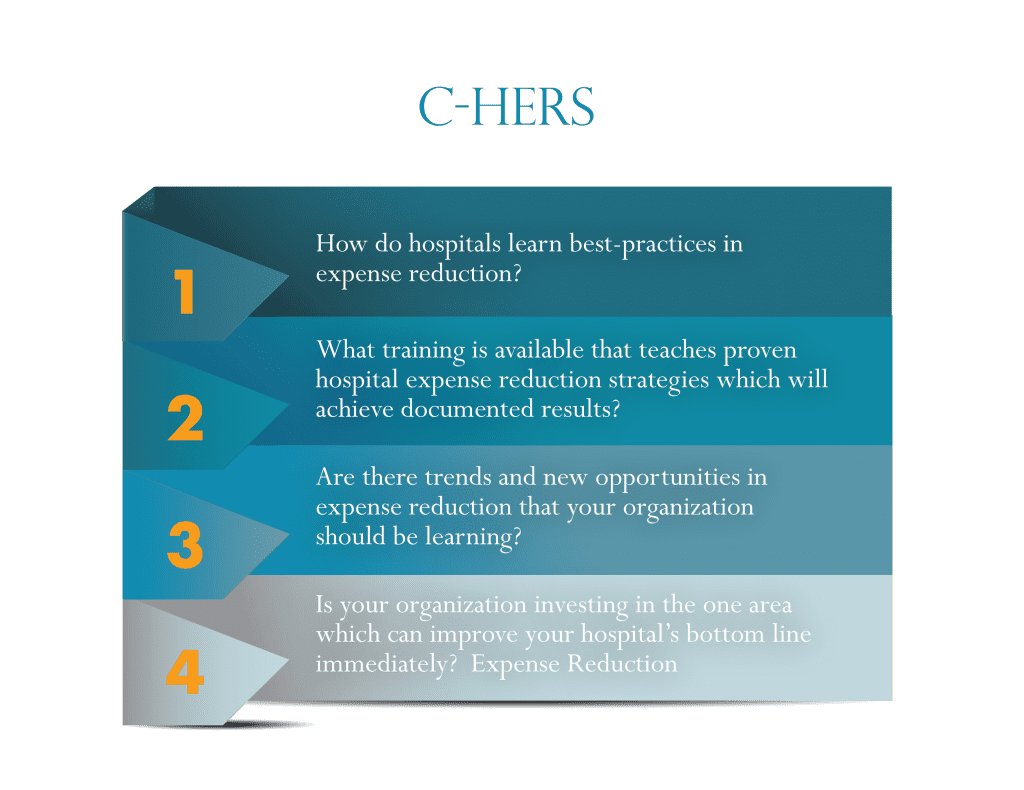 C-HERS is a web-based, interactive program that utilizes an innovative learning management system to offer a classroom-style flow. Led by Lisa Miller, VIE's founder, C-HERS gives hospital employees an opportunity to learn from seasoned expense reduction professionals.
C-HERS trains audiences to master the following:
Teach hospital staff expense reduction best practices for large-scale savings
Establish proven hospital expense reduction initiatives for documented results
Identify new trends and opportunities for cost savings within the hospital
Invest in specific areas to improve the hospital's bottom line immediately
This comprehensive training is ideal for materials managers, key buyers, and personnel from major departments involved in purchasing decisions. Finance professionals, accounts payable staff, and specialized employees will also find C-HERS incredibly beneficial.
Hospitals nationwide have already saved millions of dollars by training their staff with C-HERS.
To learn more about C-HERS training and the benefits it can bring to your hospital, please visit www.C-HERS.com or Please reach out to Denise Bisogno at dbisogno@viehealthcare.com.