When it comes to supply chain management, benchmarking is critical for success. Without the proper benchmarks, huge opportunities for savings are lost—and supply chain performance is significantly diminished. But the right benchmarking strategy can help grow hospital profits, dramatically improve operations, and even enhance the patient experience.
Here at VIE Healthcare, we pride ourselves on fully customized strategies for powerful supply chain benchmarking.
Our team of experts consultants examine not just the top 100 vendors, but also the top 101 to 1000 vendors, to achieve dramatic cost savings through accurate benchmarking.
The addition of this "middle level" vendor space allows VIE to capture tremendous savings opportunities that are frequently missed by other consulting companies. Our dedication to deep exploration and supply chain expertise truly set us apart.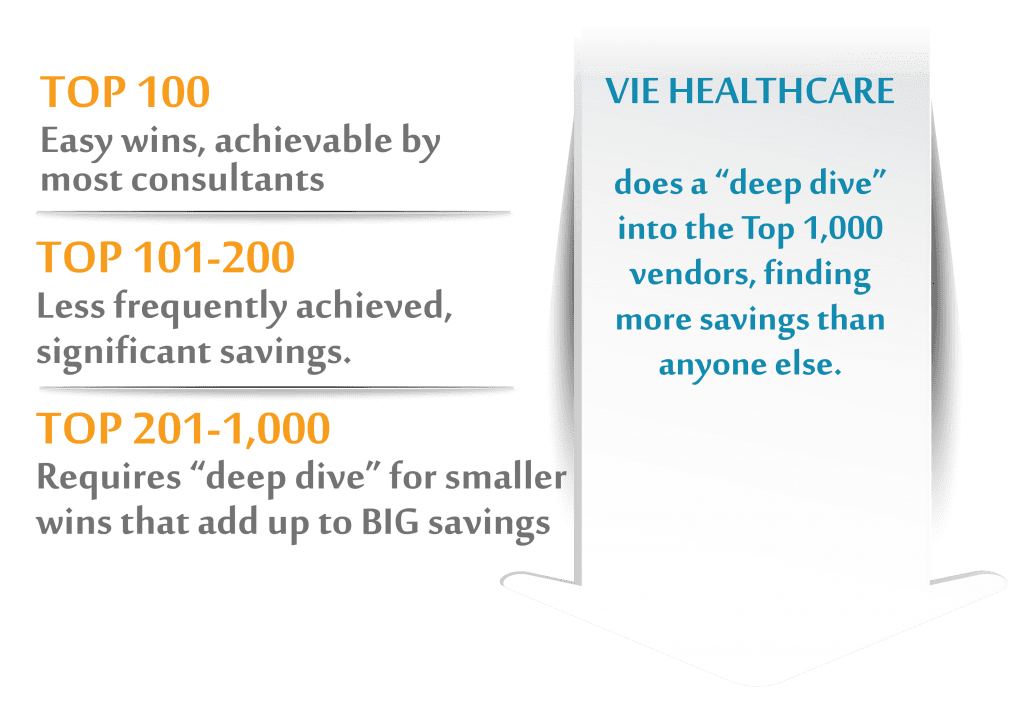 Here's how it all works:
VIE Healthcare does a "deep dive" into the top 1000 vendors, finding more savings than any other firm in the healthcare industry
Our cost-saving experts identify huge opportunities for savings from the top 101–200 vendors, an area often overlooked by other consultants
We collect smaller savings from the top 201–1000 vendors, adding up to massive overall savings for our clients
To go beyond the top 100 vendors with VIE for hospital purchased services or any other service, call Lisa Miller at 1-888-484-3332 Ext 501 or email at lmiller@viehealthcare.com to discuss supply chain benchmarking.