Optimize your Information Technology budget through pricing and terms transparency.
Overspending on IT services is a growing challenge for hospitals around the country. Without day-to-day market visibility, it can be nearly impossible to keep up with frequent changes to healthcare-IT pricing and terms. In addition, IT contracts and proposals grow more complex by the year. Vendors introduce new licensing models, maintenance options, and audit clauses every day.
VIE Healthcare can help.
We offer the industry's only benchmarking data and contract visibility specifically for IT pricing and terms at hospitals.
Our unique IT expense reduction system delivers pricing and benchmarking to hospitals nationwide. VIE's expert analysts review thousands of hardware, software, services, and telecom contracts and proposals each year. We find hard-dollar savings in 100% of the contracts we review. VIE secures refunds for identified overpayments and incorrect billings—in some cases exceeding $200,000.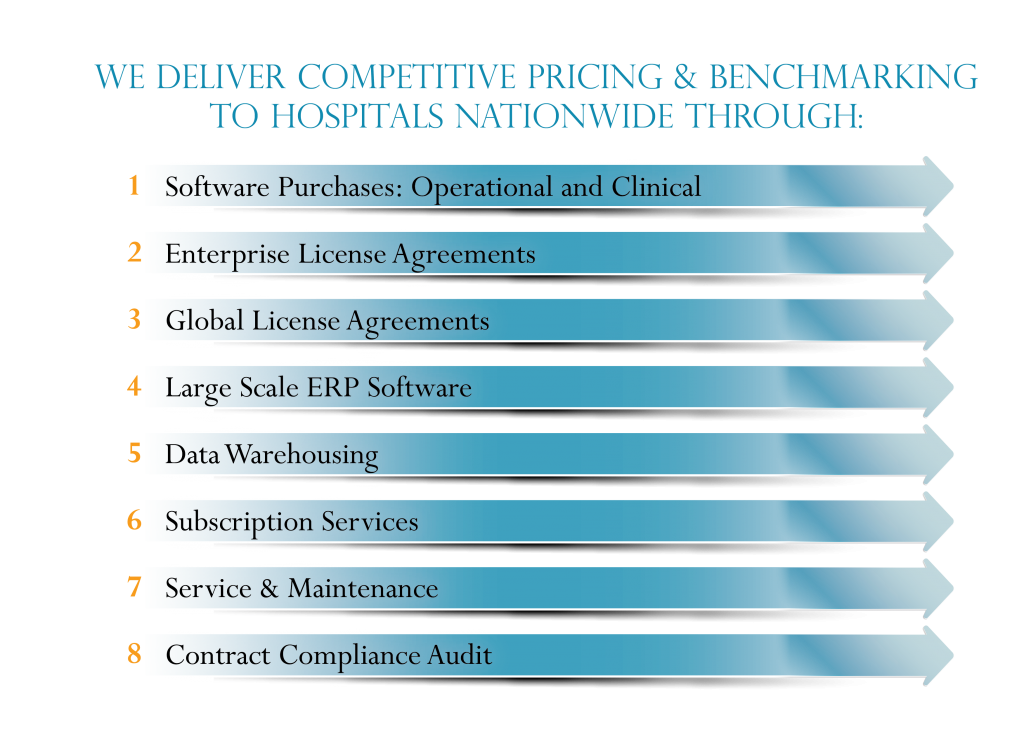 By working with VIE, your healthcare organization can:
Dramatically improve pricing
Optimize IT licenses
Uncover overcharges from vendor contract errors
We offer risk-free, performance-based consulting, providing hospitals with self-funded solutions to achieving real non-labor healthcare IT cost savings. Imagine: Your hospital's IT department can acquire new technology, software, or equipment entirely through expense reduction.
Our expertise includes dramatically cutting costs for:
Operational and clinical software purchases
Enterprise license agreements
Global license agreements
Large-scale ERP software
Data warehousing
IT subscription services
Services and maintenance
Contract compliance audits
VIE Healthcare protects our clients from overspending in IT categories so their budgets go further. Our specialists have deep category expertise, vendor-specific market intelligence, and proven ability to reduce costs and uncover refund opportunities.
Read about some of our IT success stories below:
Reviewing a PACS and lab maintenance agreement, VIE uncovered that a client was paying maintenance fees based on the list price of the software. VIE benchmarked the maintenance fees and, in collaboration with the client, a new five-year contract was negotiated with a 26.5% reduction in pricing. VIE's work resulted in $965,000 in savings over the five-year term of the agreement for the client.
While reducing the labor component of a transcription agreement from a third-party company, VIE discovered that a client was using an outdated platform. We recommended that the client upgrade to the newest platform in order to reduce many of the monthly fees associated with the older platform. This led to labor cost savings by standardizing to an easier technology and consolidating the work to one company. VIE's client realized $2.7 million in savings over the five-year term.
VIE created a user-friendly project plan and impact report comparing existing costs versus market competitive rates. VIE worked collaboratively with the IT and purchasing departments to develop a strategy to engage and negotiate with the healthcare software providers' representatives. VIE was successful in reducing the existing maintenance costs by 16% while maintaining the same services and not committing to any additional systems or upgrades.
VIE identified an opportunity to lower the cost of an annual anti-virus software provided to a 450-bed health system in the Northeast. VIE benchmarked with competitive market rates and worked with the IT department to develop a strategy including evaluating competitors. VIE then negotiated lower costs from the existing supplier and saved the health system $50,000 annually without changing suppliers or reducing the number of licenses.
If your hospital is ready to realize massive IT cost savings, call Lisa Miller at 1-888-484-3332 Ext 501 or email at lmiller@viehealthcare.com.