Your Margin Improvement is Hiding In The Line Item Details
VIE Healthcare Guarantees Margin Improvement With Invoice ROI™
VIE Healthcare® has delivered significant cost savings to hospital purchased services through our guaranteed margin improvement expertise. Our automated and patented technology reconciles thousands of line item details instantly, saving hospitals and healthcare organizations unnecessary purchased spend caused by billing errors. Not only do we find and save you money, we eliminate your manual process so you can redirect your team to work on better initiatives.
This proven, patented technology is called Invoice ROI™.
Reconciliation, Optimization, Intelligence
Invoice ROI™ offers invoice reconciliation, contract optimization, business intelligence and an analytics platform with real-time line item contract reconciliation and benchmarking performance provided on a monthly basis for outsourced services.
Our process begins with line item reconciliation of the past 12 to 18 months of your purchased services invoices to reveal the hidden costs in pricing errors and off-contract spend that you are not aware of. From there, our experts identify trends in utilization that can increase your costs and provide preventative advice to save your organization money. By moving straight to benchmarking prior to carrying out a line item analysis, significant cost saving opportunities are often overlooked and missed.
In some cases, up to 30% of hospital purchased spend is either not detailed on the contract or does not match contract pricing.
The results achieved through Invoice ROI's line item analysis cannot be achieved with AP spend.
Invoice ROI™ Stands For:
RECONCILIATION: Our technology allows for real-time Invoice reconciliation for outsourced purchased services.  Your invoice accuracy is matched to the contract and performed prior to the payment of invoices for real-time corrective action.
OPTIMIZATION: Using invoice line item details combined with other data inputs to identify trends, variations, quality and utilization improvement opportunities for pro-active monthly management of outsourced purchased services spend allows for significantly greater optimization of your purchased spend.
INTELLIGENCE: Our technology provides you with cost saving opportunities identified by purchased services line item in real-time and on a monthly basis providing you with the intelligence you need for predicting future spending.
Invoice ROI™ delivers guaranteed margin improvement and identifies cost saving opportunities for your hospital in real-time.
Our Vision Is To Move Our Clients To A Life Cycle Management of Their Purchased Services Spend Driven By Invoice ROI™ and The Power of Line Item Analytics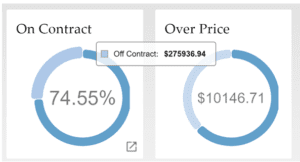 Eliminate overpayment of purchased services invoices in real-time

Automatic Invoice reconciliation monthly

Utilization reports with data that is extracted automatically for you to improve your hospital's performance by date range

Real-time purchased services intelligence and cost savings

Every month
We guarantee your hospital is overpaying for purchased services and the details are buried in the invoice line item data that your team doesn't have the bandwidth or technology to manage.  We can provide you with guaranteed margin improvement. 
We make our technology do the work for you. No team member training or new software installation required.
Let's have a conversation about how we can help your organization.
Contact Lisa Miller or Rich Dormer to discuss the power of Invoice ROI™
Lisa Miller: lmiller@viehealthcare.com or
Rich Dormer: rdormer@viehealthcare.com
Phone: 1-888-484-3332 Ext 500
"Invoice ROI is a very strong analytics platform which provides clear value with speed and accuracy — across the board — products and purchased services and as a valuable budgeting tool to analyze and predict and present opportunities that should be pursued."
– Len Guglielmo, Chief Supply Chain Officer at The Valley Hospital