Invoice ROI™ is a new, unparalleled process which combs through outsourced purchased services invoices for errors and issues on a monthly basis. Exclusively offered by VIE, Invoice ROI™ benchmarks in real time and provides a dashboard for measuring utilization trends.

For over 18 years, VIE Healthcare has developed and utilized a proven process to identify, analyze and achieve purchased services cost savings for hospitals. Our process starts with line item reconciliation of purchased services invoices to contracts which uncovers hidden costs from pricing errors and off contract spend.
Analyzing the invoice line item details for every purchased services vendor, by month, allows our experts to see trends in utilization that are often missed and are very costly to the organization.
Reconciliation and Optimization are foundational before we even provide benchmarking, strategy and insights into best practices for our clients.
None of this can be accomplished through categorizing AP Spend. Superior Results Require Line Item Detail Analytics – Everything Else Will Fall Short of Accomplishing Your Full Cost Reduction Opportunities.
VIE Healthcare Has Now Automated Our Proven Process Into a Proven Technology
Invoice Analytics System
Invoice-ROI is an invoice reconciliation, contract optimization, business intelligence and analytics platform with real-time contract reconciliation and benchmarking performance which occurs on a monthly basis for outsourced purchased services.
Reconciliation: Invoice reconciliation technology and process for outsourced purchased services invoice accuracy matched to the contract and performed prior to the payment of the invoices for real-time corrective action.
Optimization: Invoice Analytics are performed based on the invoice line item details combined with other data inputs that Identifies Trends, Variations, Quality and Utilization improvement opportunities for Proactive Monthly Management of Outsourced Purchased Services Spend.
Intelligence: Cost Reduction Opportunities are identified by Purchased Services Line Item in Real-Time and on a monthly basis.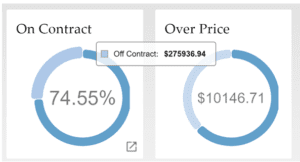 Automated Monthly Invoice Reconciliation of Purchased Services Invoices to Contracts

Automated Purchased Services Line Item Utilization Optics

Real-Time Purchased Services Intelligence

Done For You – Every Month
Our Vision Is To Move Our Clients To A Life Cycle Management of Their Purchased Services Spend
Driven By Invoice ROI™ and The Power of Line Item Analytics
Gain Control and KEEP Control Over Your Challenging Purchased Services Spend with Invoice ROI™
It's Easy, Efficient, Automated and Will Immediately Reduce Your Purchased Services Costs Through Line Item Optics & Analytics.
Request a 20 Minute Live Demo Today!
Lisa Miller: lmiller@viehealthcare.com or
Rich Dormer: rdormer@viehealthcare.com