Effective operating room management is no easy task. Complex environments with many moving parts, ORs don't always function as they're supposed to. This is especially true when it comes to the availability of needed supplies and equipment. Patient care is compromised when materials go missing.
VIE Healthcare helps ORs avoid supply and equipment issues, so physicians and staff can focus on exceptional patient care.
Our comprehensive OR optimization consulting services provide expert support for the complex OR environment.
Actual past outcomes of VIE's OR optimization consulting include:
Recovering over $400,000 in refunds and exchanges of expired and overstocked OR inventory
Eliminating unnecessary stock of over $1 million of supplies and equipment
Reducing annual OR operating expenses by up to $5 million through vendor contract negotiations
Cataloging overstocked items and quantifying value of expired inventory, totaling over $500,000
Using VIE's exclusive return-script process to negotiate overstock returns for cash, credit, and product exchange
Identifying and renegotiating out-of-line pricing agreements in favor of the hospital
Developing appropriate inventory level guidelines to meet the hospital's specific needs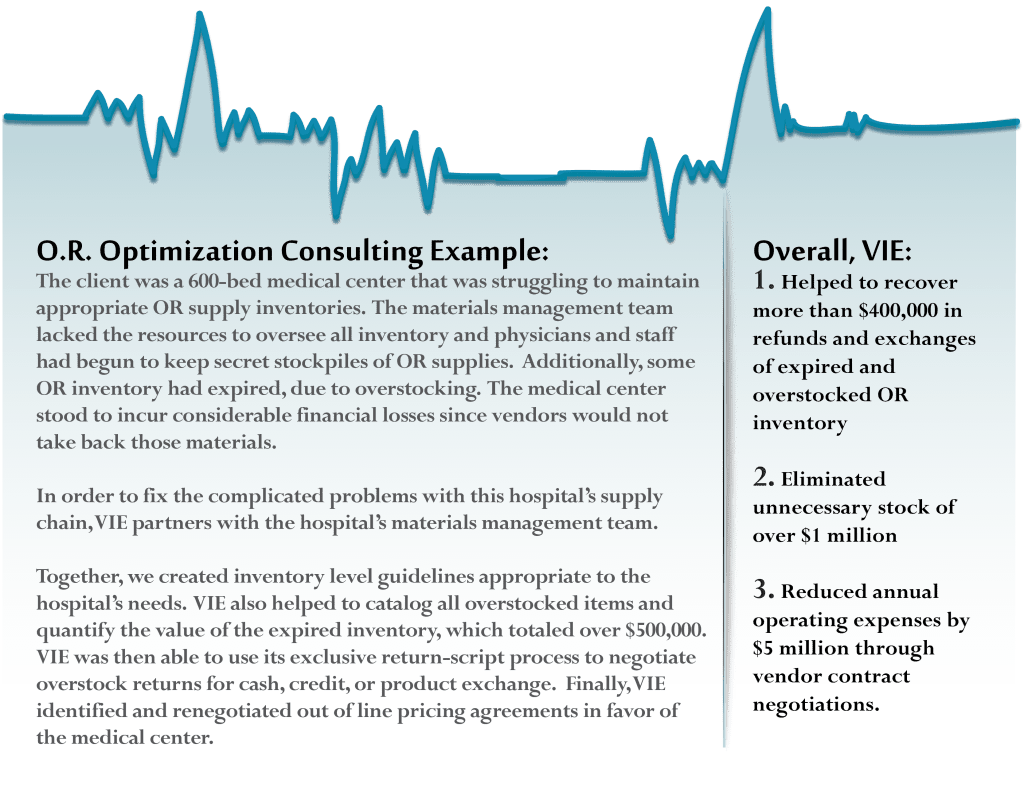 Here at VIE, we understand that missing information and equipment in the OR often comes at the most inopportune times. We also know that scheduling patients for surgery requires more than just a surgeon's green light. That's why our consulting approach enables OR staff to have devices and supplies ready to go, as soon as they're needed.
Effective management of operating rooms requires skillful coordination of human and material resources, too. Without this coordination, surgeries fail to be performed efficiently, cost effectively, and safely. VIE's experienced OR specialists put all the right pieces in place to optimize patient care in your OR.
VIE is the leader in hospital purchased services cost reduction. To learn more about how VIE's OR optimization consulting can dramatically improve your OR, Please reach out to Denise Bisogno at dbisogno@viehealthcare.com.